How FHS researchers are pushing for solutions to COVID-19
The impact of the COVID-19 coronavirus has been felt around the globe and a race to find a vaccine is on. Moreover, the safety and health of our communities have been pushed to the forefront, with our healthcare leaders being the public face of the pandemic.
Here at Queen's Faculty of Health Sciences, students, staff, and faculty are navigating through this new normal, and leaders are emerging at every corner – especially in research. Our team of clinician scientists are working around the clock on a variety of research projects to help combat and find rapid solutions in response to COVID-19.
As readers would know, the Southeastern Ontario Academic Medical Organization (SEAMO) supports both the clinical and academic missions of the School of Medicine.  As part of a funding program from the Province of Ontario, SEAMO has established a COVID-19 Research Fund to accelerate academic, clinical, and basic science research projects, expand the infrastructure required to perform critical research and enable research into innovative solutions to maximize the use and reuse of personal protective equipment (PPE). We had 37 submisssions and through a competitive process, chose six projects for funding.
Stephen Vanner 
COVID-19 testing of health professional students: Informing testing and public policy for Universities and Society
Collaborators: Dr. Snelgrove-Clarke, Dr. Marcia Findlayson, Dr. Tony Sanfilippo, Dr. Leslie Flynn, Dr. Gerald Evans, Dr. Keiran Moore, Dr. Azim Kasmani, Dr. Kathie Deliszny, Dr. David Walker, Dr. Stephen Archer, Dr. Dean Tripp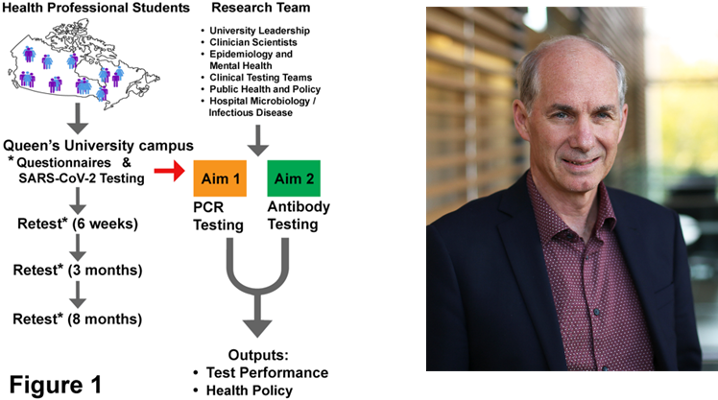 One COVID-19 centric research project that is underway involves students from our Schools of Nursing, Rehabilitation Therapy and Medicine here at Queen's. The project is being led by Dr. Stephen Vanner, pictured above, the Director of our Gastrointestinal Disease Research Unit.
Worldwide experience with the rapidly evolving COVID-19 pandemic has highlighted the urgent need for expanded testing, and critical unanswered questions highlight that a rigorous approach is required. To understand the evolutionary epidemiology of COVID-19 and the usefulness of tests evaluating its circulation within defined populations' longitudinal studies on well-defined cohorts are needed. These answers are also critical to inform policy decisions regarding the movement of segments of our community, particularly from regions where COVID-19 infection has been highly prevalent. This is especially true for post-secondary institutions grappling with decisions about when students can be safely returned to campus, protecting both their physical and mental wellbeing.
Queen's University is in a unique position to address these questions because a large cohort of health professional students are returning to our campus in either June or September. Dr. Vanner's study aims to determine whether testing from asymptomatic individuals identifies carriers on arrival at Queen's University at six weeks, three and eight months, and also determine what percentage have antibodies to COVID-19.
Read more below about the other projects funded by SEAMO's COVID-19 Innovation Fund:
Stephen Archer & Victor Snieckus - Synthesis and preclinical testing of novel small molecule therapies for COVID-19
Currently, no drugs have been proven effective in a randomized clinical trial for treating the severe respiratory effects of COVID-19. Drs. Archer and Snieckus are confronting this challenge on two fronts. They will modify existing antiviral drugs to improve their metabolism and efficiency and reduce their toxic side effects. On a second front, they have identified that this virus kills cells, and may impair oxygen sensing by damaging mitochondria in lung cells. They will explore a novel mitochondrial pathway to combat the "happy hypoxemia" (low oxygen without appropriate shortness of breath), which characterizes COVID-19 pneumonia, and to prevent cell death by protecting mitochondria from SARS-CoV-2. Sussex Research Inc. (Ottawa) is collaborating in the antiviral drug synthetic work and dissemination of the results. 
Paula James and David Lillicrap - Coagulopathy: Understanding and Treating a Novel Entity
Drs. James and Lillicrap (Clinical and Molecular Hemostasis Research Group), leading researchers in hemostasis, are studying the links between COVID-19 Coagulopathy, an unexplained and potentially fatal blood-clotting syndrome associated with this virus, and von Willebrand Factor (VWF), a blood-clotting protein. They are collaborating with researchers at St. Michael's Hospital (Toronto) and Vermont Medical Center who are studying the effects of the blood thinner heparin on COVID-19 patients, which has been shown in preliminary research to help these patients. The role of VWF in this disorder has not yet been studied, and the Queen's/KHSC researchers aim to gain a better understanding of the mechanisms of VWF in COVID-19 Coagulopathy, potentially leading to the development of new treatments.  
David Maslove and Michael Rauh - COVID-19 and the Genetics of Mortality in Critical Care (GenOMICC)
Drs. Maslove (Critical Care) and Rauh (Pathology and Molecular Medicine) are part of an international genetics study on why some patients are affected more severely by COVID-19 than others. They will be looking at the DNA of patients admitted to intensive care units across Ontario and compare them to those of a healthy control population. Using advanced computing, they will be able to look at hundreds of thousands of subtle genetic variations across the population, to determine which of these are associated with outcomes. Knowing more about these variations will lead to new strategies for fighting the virus.
Martin Petkovich, Jacob Rullo & Martin ten Hove  - Coronavirus infection of the ocular mucosa to model infection and systemic immunity
Drs. Martin Petkovich, Jacob Rullo, and Martin ten Hove will study local and systemic immune responses to COVID-19 infection using a non-human model that will examine how the virus infects the mucosal layer of the eyes. They will also determine the efficacy of administering a vaccination via this route to see if it generates systemic immunity against coronaviruses, and then use these results to study how the disease progresses in vaccinated and non-vaccinated models.   
Robert Siemens & Charles Graham - The Role of BCG-induced innate immune memory in the protection against coronavirus 
Countries that use the vaccine Bacillus Calmette Guerin (BCG) to prevent tuberculosis show lower rates of coronavirus infection than those that do not. Intriguingly, this vaccine has also been used to successfully treat bladder cancer. Drs. Siemens and Graham believe that BCG enhances the body's innate immune system. Their research aims to understand the immune-system mechanisms that lead to these protective benefits, and whether this vaccine could be used to protect against SARS-CoV-2, the coronavirus that causes COVID-19.  
In parallel, the Vice-Principal (Research) launched an internal initiative fund to support research projects that will contribute to the development, testing, and implementation of medical or social countermeasures to mitigate the rapid spread of the virus and its negative consequences on global communities. Five of the 13 projects at Queen's receiving funding are supporting the work of researchers in the Faculty of Health Sciences and are listed below. The full Queen's list can be viewed here.
We are optimistic about the potential impact of these new research projects as we work to battle COVID-19. I encourage you to comment on the blog below to share your thoughts, and if you would like more information, please contact Emily Rees from the Advancement team at e.rees@queensu.ca.
Related topics