Queen's Health Sciences: The Next 25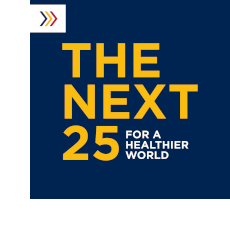 The best partnerships build on their foundations while always looking forward – identifying new pursuits, shared interests, and strength of purpose.
So it is with Queen's Health Sciences. This year is our 25th anniversary as a united faculty. We celebrate our shared past while firmly looking towards the future and what we can accomplish together over the next 25 years.
On July 1, 1997, the former Queen's Faculty of Medicine joined with the Schools of Nursing and Rehabilitation Therapy to come together as one. While 2022 officially marks our silver anniversary, our commemoration finds us striving for gold.
Gold, as in setting a new high bar for excellence. Launched last fall, our strategic plan, Radical Collaboration 2026, boldly lays out our plans to lead a revolution in academic health sciences.
One of the bold priorities of that five-year plan is to see 20 per cent of our curriculum delivered in an interdisciplinary format.
We want to lead the way in re-imagining 21st century health sciences education and, in turn, help re-imagine 21st century health care in practice, on the front lines… in our research institutions, clinics, and communities.
That means shared curricula and team-based learning that develops practitioners and scientists who can work and lead anywhere. It means cross-program and interdisciplinary experiences that integrate schools, programs, and learning environments. It means developing community-integrated education opportunities that prepare learners to practice in diverse environments.
This transformation won't happen overnight, and it will require the energy and ideas of our faculty, staff, students, managers, and partners. Early efforts will include activities like curricular mapping and the identification of early integration projects. Our working group aims to produce draft revised curricula by 2023-2024, with a soft launch in fall 2024 and an official launch to follow in fall 2025.
Stakeholder engagement and feedback will be key to our success. Input from across our schools, institutional allies, and alumni community will help us every step of the way.
Of course, this interdisciplinary work is not isolated. QHS has groups developing short- and long-term goals for all our strategic priorities – from Equity, Diversity, Inclusion, Indigeneity, and Accessibility (EDIIA) to clinical impact in the community. A special cornerstone of our plans is a new building – one that will reflect our values and aspirations as a united faculty, and drive collaboration and innovation in its physical spaces... a building that will serve as ground zero for a revolution in health sciences education.
As we mark our 25th anniversary, we will have many opportunities to come together to celebrate.  
In the coming months we will share stories about our vision and priorities for the future – The Next 25 – while highlighting the work of faculty, staff, students, alumni, donors, and more. On July 14, we will mark our anniversary by gathering faculty, staff, students, and alumni for cake on Summerhill lawn from 2-3 p.m. Homecoming will see us mark the occasion in style with a special gala event. We will also be launching an ambitious fundraising campaign – one that asks our generous donors to help us build a healthier world and help reinvent health sciences education and the health systems of tomorrow.
Leading a positive revolution is a tall order, but I can't think of a better way to come together on this 25th anniversary. When Queen's Senate approved the unification of Medicine, Nursing and Rehabilitation Therapy, the document it endorsed laid out a long-term vision for interprofessional and interdisciplinary education, research, and health care provision.
We have come a long way already and united we will blaze a new trail. By the time QHS commemorates its golden, 50th anniversary, I believe the concept of interdisciplinary education and health care will be far from revolutionary or radical. QHS will have pioneered standard, common practices found in all Canadian health sciences classrooms, labs, and frontline care facilities.
Here's to 25 years so far and the next 25 to come; I for one can't wait to see what the future brings.
The Next 25 isn't possible without your support - make your gift to Queen's Health Sciences today.
Related topics