Dr. Vanner receives national award in bowel disease research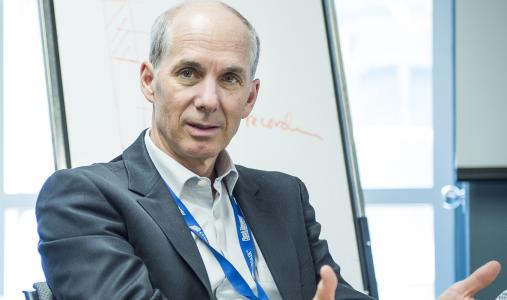 Dr. Stephen Vanner, Director of the Gastrointestinal Diseases Research Unit (GIDRU) at Kingston Health Sciences Centre, Professor of Medicine at Queen's University, and clinician-scientist, KGH Research Institute, has been named a Fellow of the Canadian Academy of Health Sciences (CAHS). It is one of Canada's most prestigious academic honours. Fellows are chosen for their international leadership, academic performance, scientific creativity and willingness to serve.
The Academy described Dr. Vanner as "an internationally recognized clinician-scientist whose work in bowel disease laid the foundations of the new field of neurogastroenterology. His discoveries have advanced understanding of bowel disease and improved patient outcomes worldwide."
He was cited for his work in transforming the GIDRU into one of the top facilities of its kind in Canada, and for his pioneering role in engaging patients in his research. Dr. Vanner has served leadership roles on national gastroenterology and related patient advocacy organizations, and at the grassroots level has been a thoughtful and articulate voice for patients and the public. Internationally he is a member of the prestigious Rome Foundation Committee, helping to develop global guidelines for bowel disease.
More recently he was named co-lead investigator on Canada's largest -ever study of bowel disease, comprising 88 researchers and 17 centres across Canada. This groundbreaking initiative is targeting diet, gut bacteria and mental health, with an aim of developing new treatments that improve both physical and mental health of sufferers of irritable bowel syndrome and inflammatory bowel disease.
"I'm deeply honoured to be recognized by the Academy in this way," says Dr. Vanner. "For more than 30 years, my research and related volunteer activities have been guided through the lens of "yes, but what are our patients telling us?", because I believe that engaging patients in research leads to better treatments and better outcomes."
"Stephen is an exceptionally talented researcher and a passionate advocate for the role of patients in his research," says Dr. Steven Smith, Vice President, Health Sciences Research, KHSC, Vice-Dean (interim) Research, FHS, Queen's University and President & CEO, KGH Research Institute.
"As well, he is a gifted mentor to his students and trainees – indeed, during his time at Queen's and KHSC, at least 50 new gastrointestinal clinician-scientists have benefited from his training and guidance, and several of these are now considered research 'stars' in their own right. Stephen represents the absolute best of the academy's values. We extend our warmest congratulations to him on receiving this well-deserved honour."