Dr. Michelle Gibson appointed Assistant Dean, Curriculum, Undergraduate Medical Education, Faculty of Health Sciences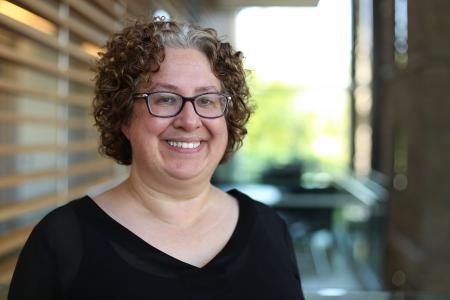 Dean Richard Reznick is pleased to announce that Tom Harris, Interim Provost and Vice-Principal (Academic) at Queen's University, has appointed Dr. Michelle Gibson as Assistant Dean, Curriculum, Undergraduate Medical Education, Faculty of Health Sciences. The appointment begins on July 1, 2019 for a five-year term.
Reporting to the Associate Dean, Undergraduate Medical Education (UGME) and liaising with and supporting all sectors of the educational continuum in the School of Medicine, the Assistant Dean, Curriculum UGME is responsible for providing oversight of the Undergraduate Medical Education curriculum.
Dr. Gibson received her MD from Memorial University in Newfoundland in 1999. She completed her residency in family medicine at Queen's in 2001, followed by an additional year in enhanced skills in Care of the Elderly. She joined the Division of Geriatric Medicine in the Department of Medicine in 2002, and has a cross-appointment to the Department of Family Medicine.
Since joining Queen's she has taken an active role in academic leadership. Over the years, she acted as Director for several components of the UGME curriculum, including Year 1, the Facilitated Small Group Curriculum, and the Principles of the Geriatrics, Oncology and Palliative Care course. She is the Director of Student Assessment in UGME.
In 2013, Dr. Gibson completed her Masters of Education at Queen's with a focus on assessment in medical education.
A key area of interest for Dr. Gibson is compassionate care for older adults. She is the Discipline Lead for Geriatric Medicine teaching in UGME. In the past, she was the coordinator for rotations in geriatric medicine for undergraduate and post-graduate medical trainees in many programs at Queen's University, and she acted as Program Director for the Family Medicine Enhanced Skills Program in Care of the Elderly. She was made a Fellow of the College of Family Physicians of Canada in 2016. 
Dr. Gibson has served on many committees at Queen's, as well as provincially and nationally.  In UGME, this included chairing the Curriculum Committee and the Student Assessment Committee. She has been a member of the Canadian Geriatrics Society education committee, and was previously a Board Member for the Ontario Long Term Care Clinicians.
Her passion for excellence in medical education is evident in the countless oral presentations and workshops she's presented, tackling subjects as diverse as digital medical education and student assessment. Year after year, Dr. Gibson is held in high regard by her students and is the recipient of nine major teaching awards, including the Queen's University Alumni Award for Excellence in Teaching, the W. Ford Connell Award for Excellence in Teaching and for Mentorship, and the Principal's Educational Technology Award at Queen's.
Please join the Dean in welcoming Dr. Gibson to this new role.