Dr. Catherine Donnelly appointed as Director, Health Services and Policy Research Institute, Queen's University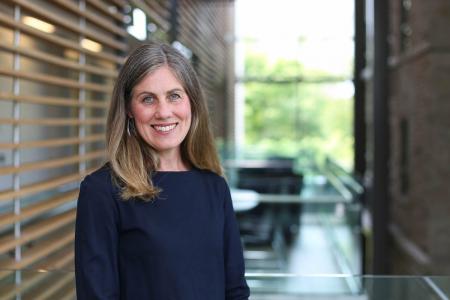 On the recommendation of Dr. Steven Smith and with the support of Dean Richard Reznick, Mark Green, Provost and Vice Principal (Academic) at Queen's University, has appointed Dr. Catherine Donnelly as Director of the Health Services and Policy Research Institute (HSPRI). Her appointment is effective April 1, 2020.
Dr. Donnelly succeeds Dr. Michael Green, who served as Director of the Centre for Health Services and Policy Research. Dean Reznick would like to extend his sincere appreciation to Dr. Green for his exemplary service and leadership in establishing HSPRI. 
Dr. Donnelly earned her BSc in Occupational Therapy from Queen's University, and later earned an MSc from the University of British Columbia, School of Rehabilitation Science. She earned her PhD in Education, Assessment and Evaluation, from Queen's University in 2013 and completed a fellowship at Western University's Centre for Studies in Family Medicine that same year.
Dr. Donnelly joined the School of Rehabilitation Therapy in 2004 and is an Associate Professor with a cross appointment to the Department of Family Medicine. She served as Interim Associate Director, Occupational Therapy Program in 2017. Dr. Donnelly is an instructor in both the Occupational Therapy and Aging and Health programs and is a practicing occupational therapist with the Queen's Family Health Team's Belleville site.
Dr. Donnelly brings extensive clinical research experience to her role. Her focus is on team-based primary care with an emphasis on understanding how interprofessional teams support older adults and individuals with chronic conditions. Her work aligns strongly with the mission of Queen's, which supports faculty collaboration and interdisciplinary knowledge translation in the development of high-impact research and evaluation of the Canadian health care system. In the past three years alone, Dr. Donnelly has been named in 19 funded research studies examining integrated care and has earned funding from the Canadian Institutes of Health Research, Ministry of Health and Long Term Care, Ontario Society of Occupational Therapists, and Baycrest Research-Clinician Partnership Program.
Dr. Donnelly's expertise in assessment and evaluation has resulted in teaching innovations that have benefitted interprofessional teams including clinicians, Queen's faculty and students, and other stakeholders in the rehabilitation field.
Dr. Donnelly has been recognized widely as an excellent educator. She is the 2018-19 recipient of Faculty of Health Sciences Education Award and has been further honored at Queen's with the Alumni Award for Excellence in Teaching (2014), Blue Star Teaching Excellence Award (2014, 2015, 2016), and Charles Baillie Teaching Award (2017). She has been the Queen's Faculty Nominee for the 3M National Teaching Fellowship (2018).  
Dean Reznick is confident that the HSPRI will greatly benefit from the expertise that Dr. Catherine Donnelly brings to the role of Director. Please join the dean in congratulating Dr. Donnelly on her appointment.