The Art of Research photography contest – FHS special prize winner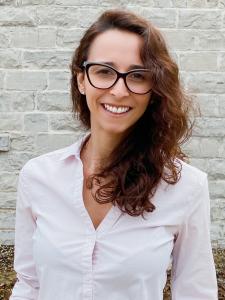 Natalia Lyra e Silva has won the 2020 Art of Research Photo Contest – FHS Special Prize. A post-doctoral fellow at the Centre for Neuroscience studying Alzheimer's Disease, Natalia's image depicts a microscopic look into a part of the brain called the hippocampus, which is involved with memory.
Growing up in Brazil, Natalia witnessed Alzheimer's first-hand through her grandmother who was afflicted with the degenerative neurological disease.
Neurodegenerative diseases like Alzheimer's slowly weaken the brain and its cognitive abilities, resulting in debilitating memory loss. "It's so awful, to not remember your own child, or your own grandchildren," says Natalia, of her grandmother.
With this personal and lasting connection with Alzheimer's, Natalia earned her undergraduate degree in life sciences before moving on to study biochemistry in both her master's and PhD degrees, with a focus on Alzheimer's. After completing her PhD at the Federal University of Rio de Janeiro, she accepted a post-doctoral position at Queen's University in Dr. Douglas Munoz's lab.
Here at Queen's, Natalia is working to build a better model of the brain's inflammatory response with Alzheimer's disease. By studying the brains of certain primates, Natalia's work will help us better understand the brains of humans and the effects of Alzheimer's Disease.
Natalia's winning image and accompanying caption from the contest:
The primate brain is highly specialized allowing us an incredible range of experiences. This microscopic photo captures cells within a brain region involved with learning and memory named hippocampus. Every lived experience that we are able to remember has boosted the formation of new connections in our brain. These connections are affected in diseases that impair memory, like the Alzheimer's disease (AD). Here, we can observe cells involved with the brain inflammatory response. These cells are upregulated in the brains of AD patients. This technique allows us to better understand how our brain works and how is altered by diseases.