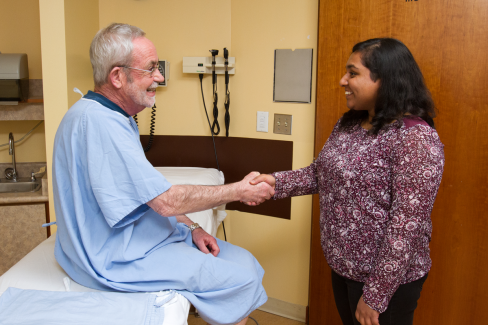 Connecting classroom learning with the "real patient"
Queen's GSK Clinical Education Centre (GSKCEC) Volunteer Patient Program provides hands-on learning for future doctors, nurses, occupational and physical therapy students in a controlled environment. Through the planning and delivery of educational initiatives, the Faculty of Health Sciences teachers use the CEC to offer creative clinical education that is based on patient-centered care .
Since its inception in 1972 as the Clinical Learning Centre, Kingston community volunteers have been helping to teach the health science students. A fully accessible facility, the GSKCEC is specifically designed to replicate a variety of hospital and community-based clinical settings.
The GSKCEC enhances traditional opportunities for students to learn and develop their clinical and communication skills in a unique experiential setting that is very close to the real world where they will eventually be working . Key to our success is the role of Kingston citizens who willingly participate.
The teaching and learning connection between the Volunteer Patients (VPs) and students is condensed through a variety of opportunities where the students practice their clinical and communication skills (i.e., histories, interviews, and/or physical examinations) and the VPs share their authentic information. Depending on the type of session, students may ask the VP questions regarding health history, daily routine, psycho-social aspects of their lives or family background. This questioning can be very personal. The VPs are in control of the depth of information they are willing to provide and are not obligated in any way to talk about matters they do not wish to share. Bound by the health professional's Code of Ethics, VPs can be assured that all information is kept in the strictest of confidence.
Who are Volunteer Patients?
VPs are people who allow medical, nursing, and occupational or physio therapy students to interview them about their health, family and lifestyle; or to conduct non-invasive physical examinations. They:
are people of any age (infants, youth, adolescents or older adults)
come from all walks of life
may be healthy or living with an illness or disability
VPs are "real people" for the student to interact with, and provide the student learner with feedback on his or her communication style and interaction.
The VPs find these sessions interesting and informative. They also learn from the experience, and gain satisfaction in knowing they are making a difference in helping future health care professionals learn their "people" skills.  
Do Volunteer Patient sessions involve diagnosis or treatment?
These learning sessions are not a substitute for care, advice or treatment. Our students are at the very early stages of their learning and are not ready to perform these skills. Your participation will help prepare them by providing opportunities for them to practice the basics, such as taking a health history, listening to the heart or lungs, or learning the developmental differences between a 6 month old and 2 year old.
 
We provide:
Refreshments
Free Parking or Taxi transportation
A unique and enjoyable experience
An accessible environment
How do I get involved?
If you are interested in becoming a Volunteer Patient, please contact Angie Mendieta-Sweet - Volunteer Program Coordinator - 613-533-6000 ext. 78087 or email angie.ms@queensu.ca. You can also call our main number 613-533-2380.